Is Your Glass Material Suitable for Your Application?
Find out with our Glass Material Properties chart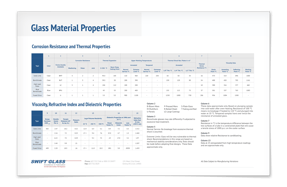 Understanding your glass material's thermal, chemical and physical properties is critical to ensure it can withstand the application's use and environment.
Our Glass Material Properties Chart offers important information about commonly selected glass materials, including Borosilicate, Soda Lime, High Lead Glass and Fused Silica. Inside the chart, you'll have access to important material properties such as:
Corrosion resistance
Thermal expansion and shock resistance
Refractive index
And more
Simply fill out the form at the right to download this free chart today.