Edgework Terminology Infographic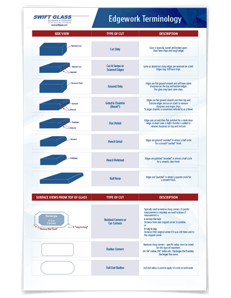 Glass materials can receive many different types of glass edge treatments, each of which will uniquely affect the overall functionality and performance of the finished piece.
In order to help ease the process of selecting an edgework type for your application, the team at Swift Glass has compiled some of the most common glass cut types along with multiple surface views and detailed descriptions in our Edgework Terminology Infographic.
Inside you'll find cut types including:
Cut and Swipe or Seamed Edges
Grind and Chamfer (Bevel)
Pencil Grind
And more...
To get access to your copy of this inforgaphic, simply fill out the form to the right >